Originally posted at Fox News.
A Huntington Beach, Calif. family has sued its school district alleging it is violating students' rights to freedom of speech and freedom of religion after two brothers were told not to hand out flyers promoting Bring Your Bible to School Day during the school day.
The school district insists it is just following policy.
Brothers Micah, 10, and Nieka Bausch, 8, were told they last October they could only hand out the flyers before and after school.
Freedom X, a conservative Christian group based in Los Angeles, filed a federal lawsuit last Monday against the Huntington Beach City School District, alleging the two children were unconstitutionally prohibited from distributing flyers promoting Bring Your Bible to School Day, a day started by Focus on the Family. The day is on the first Thursday of October and encourages students to share their faith.
"Principle [Constance] Polhemus and the Huntington Beach City School District are about to learn a hard lesson in constitutional law," said Bill Becker, Freedom X president and chief counsel. "Students, regardless of grade level, have a First Amendment right to express a religious viewpoint to another student, including the right to distribute religious flyers, without fear."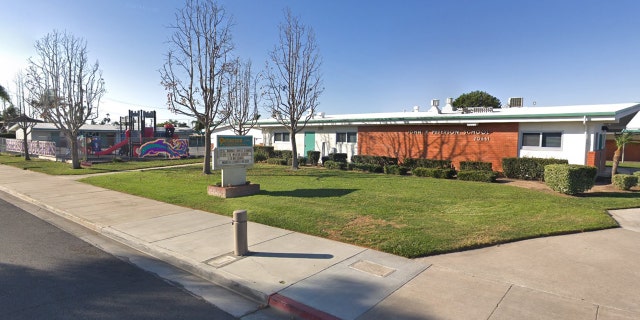 But District Superintendent Gregg Haulk told Fox News that's inaccurate, adding that they were "surprised" and "disappointed" by the lawsuit.
"It had nothing to do with the content," Haulk said. "Our procedure is that anything handed out needs to be approved. They were given every freedom of any individual to pass out flyers."
The fourth and second graders at John R. Peterson Elementary School were told they could only hand out the flyers before and after school, per school policy. But Holly Bausch, the students' mother, said her kids didn't get any time to hand out the material because they have daycare before and after school.B
"To me, it doesn't seem like kids get instruction during lunch and recess," she told the Daily Bulletin. "Why is that considered instructional time?"
The district doesn't allow any fliers to be handed out during the school day – including lunch and recess – because it creates a "disturbance."
"We try to discourage flyers as much as possible," Haulk said. "We have found they're not an effective tool for communication."
Candi Cushman, director of education issues and initiatives at Focus on the Family and oversees the Bring Your Bible to School program, told Fox News it may seen like a mundane issue but is really vital to religious freedom in public schools.
"Respectfully sharing information during a free period on campus is one of the primary, and often only, outlets that kids have for expressing their values and putting their free-speech rights into practice," Cushman said. "Shut down that right—and you've pretty much squelched kids' ability to direct any kind of student-led event."
Read more at at Fox News.
---